WordPress Multisite Plugin
WordPress Multisite Made Easy
Site Architect will turbocharge your ability to draft new sites on your WordPress multisite network. Manage, group, and create new sites in an easy to use interface, or quickly clone an existing site.

Get Notified
Sign up today to stay updated on Site Architect.
Multisite management made more…
manageable
Quick
Draft site types as blueprints to help you spin up new sites quickly and easily.
Efficient
Jump start new sites by cloning existing sites complete with plugins, themes, pages, and more.
User Friendly
Our easy-to-use interface puts everything you need at your fingertips.
Scalable
Scale your network with ease using tools designed to grow with you.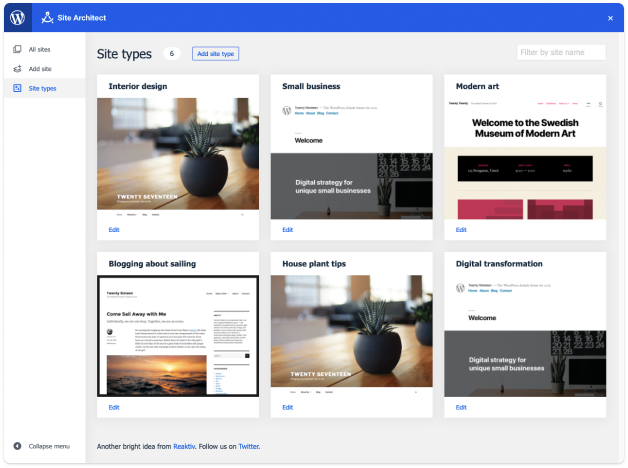 Automate your tedious routines
Site Architect helps you automate the tedious and cumbersome parts of creating new sites in a WordPress multisite network. With Site Architect site types, you predefine which theme and plugins to activate for a particular type of site. When you create a new site, you simply select the type of site you need, and Site Architect takes care of the rest.
Create sites faster than ever before
Site Architect provides an easy-to-use site cloning tool that enables you to create an exact duplicate of any site on your network. It not only copies the active theme and plugins, but it goes much further by copying the site's pages, menus, users, and configuration. You can create a custom site to use as a template for generating new sites with the exact same structure quickly and easily.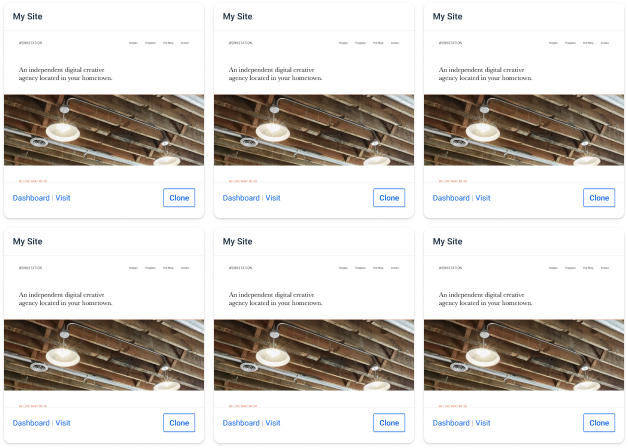 Keep track of everything in one place
A view of all of the sites in your network keeps you focused on managing and creating sites. Organize sites by type, and quickly jump to the dashboard. Easily bulk manage sites, add new users, or activate plugins across multiple sites all with a single click.
How many sites can I manage with Site Architect?
Do you plan on adding any more features to Site Architect?
Who built Site Architect?
How can I get Site Architect for my multisite network?